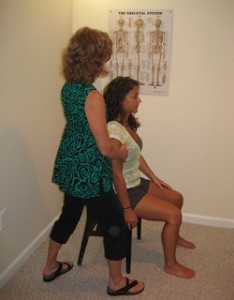 What can I expect in my Alexander lessons?
Each lesson involves the study of the body in motion, providing ways to initiate change in habitual movement patterns. The sessions include movement work that examines daily tasks such as sitting, standing, bending, driving, sleeping, desk work, sports or performance arts activities that are important to that particular student etc. Applying the principles of the Alexander method, the teacher guides the student to move in a freer, easier manner, reducing physical stress on the body. The sessions also involve work lying down, during which the principles of the Alexander Technique are presented while the body is in a form of constructive rest.
How many lessons do I need?
The length of study varies widely from person to person depending on their situation. Most students require between 5 to 10 lessons to understand and practice the basic principles. In a recent British research study, in order to make continuous self-improvement to habitual posture patterns, 20-30 lessons was proven most effective. Some people choose the Alexander Technique as a method for maintaining whole body integrity and continue to receive lessons for years following their initial sessions.
What clothing is needed for Alexander lessons?
You do not need special clothing for Alexander lessons. Loose comfortable clothing is best. Sweat pants or elastic waist pants and a T-shirt or loose fitting shirt or sweater works well. Jeans are not helpful because they are not flexible and have heavy seams that interfere with easy movement.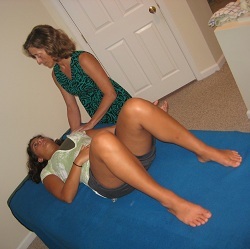 How long is each session and how much does it cost?
Private lessons are usually 40 minutes, and cost $110. Some people prefer to commit to have bi-weekly or weekly sessions for regular practice over 10 sessions. Payment is expected at the time of the lesson with cash or check. Checks should be addressed to Functional Awareness LLC. Group lessons are available periodically at a prorated cost.
What happens if I arrive late or need to cancel a session?
Alexander sessions are like piano lessons, a kind of movement tutoring. The lessons are set up in intervals of 45 minutes. Arriving late may shorten your own lesson time so as not to impinge on the next student's lesson. In this way you will also seldom have to wait for your own session to begin. If you decide to cancel, please call the day or evening before a lesson. The student is responsible for payment when a lesson is missed without a cancellation notice. In the case of inclement weather a student is always allowed to cancel at the last minute without a charge, if they feel driving in that weather is stressful or dangerous to them.
What qualifies someone to teach Alexander Technique?
Nancy Romita is a certified, AmSAT designated, senior teacher of the Alexander Technique. Alexander training involves a1600-hour training program. Mrs. Romita is certified by the American Center for the Alexander Technique in NYC, awarded in 1984. Ms Romita attended the John Nichols post certification course in 2008/09. She has provided workshops for IBM, Morgan Bank, Physical Therapy Associations, The Annie E. Casey Foundation, as well as organizations for performing artists, ATHE and NDEO. She taught the Alexander Technique at the American Dance Festival in Durham, NC, Connecticut College, State University of New York at Purchase, UMBC, The Baltimore School of Massage, and currently on the faculty in dance and theater at Towson University. She is currently the Training Course Director for the ATMidatlantic teacher training in Baltimore.